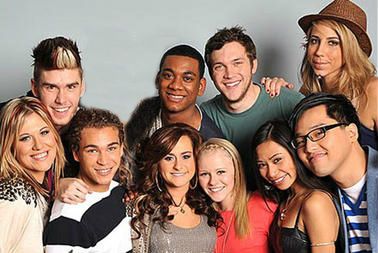 With American Idol summer tour dates being released last week, it got us to thinking what our ideal set list would be. The contestants this season have consistently put out amazing performances, but some just seem to stand out a little more than others. What would we personally love to hear sung on tour?
Well the first performance that comes to mind is
Phillip Phillips
' version of "U Got It Bad". That was flawless. If Phil wanted to sing "That's All" as well, we wouldn't mind. His version of that Genesis hit was what turned him into our favorite this season.
We also think
Colton Dixon
should sing his heart out to Lifehouse's "Everything" once more on tour. Or maybe even "Love The Way You Lie". Another suggestion we have?
While this might be a random song choice, we'd really like to hear
Erika Van Pelt
reprise Lady Gaga's "Edge of Glory" on tour. That performance got her to the top 13 and it's a current song that everyone in the audience would know.
As far as
Elise
goes, wouldn't it be awesome to hear her belt "Whole Lotta Love" this summer? What about
Hollie Cavanagh
singing Miley's "The Climb"?
How about some duets?
Our favorite bromance, Phil and Heejun
, should duet on something fun. Maybe LMFAO's "Sexy And I Know It"? We kid, we kid. Kinda. Then there's obviously the duo of
Skylar and Colton
. They had such great chemistry when they sang together on Idol, so we're putting in our request right now to see that live!
We could go on and on but we feel these few songs in particular would be a lovely addition to what's sure to be a great tour. Let's not forget though, the Idols can even sing songs on tour that they didn't perform on American Idol itself. What would you love to hear the Idols sing this summer? Sound off below. You never know who's listening ;)